"Love Letters In The Sand"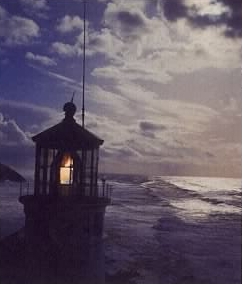 Welcome to Cape Hatteras National Seashore, the first national seashore in the country. It extends from south Nags Head to Okracoke Inlet.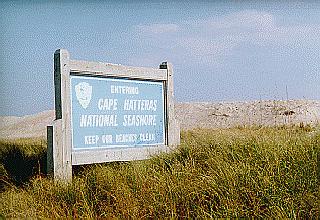 The seashore is 75 miles long and encompasses 30,000 acres, including Hatteras Island and Ocracoke Island. Extending 14 miles out to sea along the seashore's coast line, is Diamond Shoals, a treacherous sand barrier that has caused many ship wrecks. This area is known as "The Graveyard of the Atlantic." I'll put a few links to websites containing stories about these shipwrecks at the end of the tour.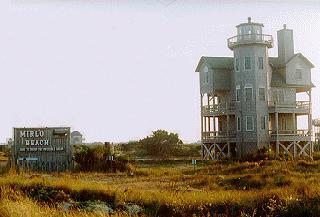 Mirlo Beach at Rodanthe
There are a number of small villages along our way as we head toward the end of our visit to North Carolina's Outer Banks. RODANTHE is located in the northern end of the Hatteras Island. It is the first village below Oregon Inlet. Rodanthe is famous for celebrating Christmas twice - on the 25th of December and again the first week of January.
---
WAVES is the next village south. A drive through the old section of town will reveal tools of the fishing trade. Like most villages on Hatteras, it is very clan like and independent.
Next in line is SALVO. As in Waves, a common sight here is stacked crab pots, fish boxes and the true "Bankers" -- the fishermen at work.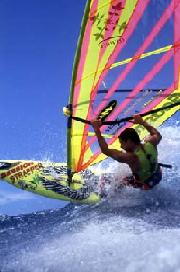 AVON still maintains some of the old-style island homes and fishing boats still frequent the harbor. Just south of Avon is the "Canadian Hole", a premier windsurfing spot.
---
BUXTON is located on the widest point of Hatteras Island. It is the "center" of the island. Buxton has the island's only school and is home to one of North Carolina's most famous landmarks.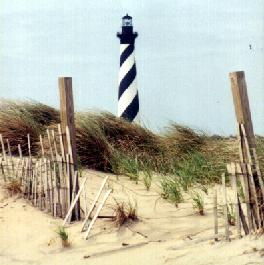 Cape Hatteras Lighthouse is the tallest in the nation. Its beacon can be seen 20 miles out to sea. It has warned sailors for more than 150 years of the dangers of Diamond Shoals.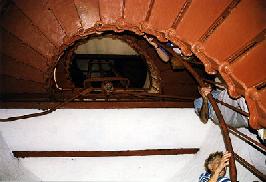 Built out of 1,250,000 bricks, it stands almost 200 feet high and was first lit in 1803. There are 257 steps to the top of the lighthouse.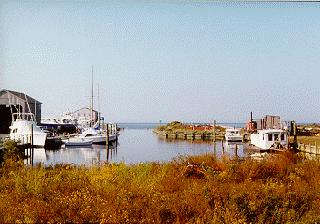 FRISCO is home to the nationally-recognized Frisco Native American Museum. The site of an ancient indian village was recently discovered near the museum.
---
HATTERAS VILLAGE, known for its colorful cottages, is the only community to retain village as part of its name. Listen closely to the native brogue, reportedly derived from Devon. Could these islanders be descendants of shipwrecked English sailors?
It's time to move on to our last stop. The ferry is in. I see the Chevy is loading. If you'll click on the ferry picture, we'll arrive at our final destination.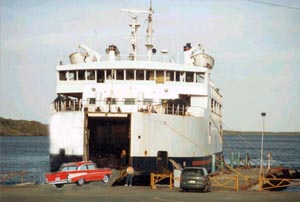 ---
---