We know it's Independence Day....BUT...We're here to wish you a very HAPPY BIRTHDAY.There's lots of other things we wish you, too.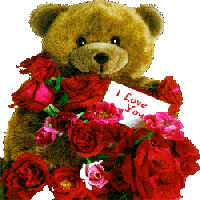 WE WISH YOU TEDDY BEARS...
AND BUTTERFLIES...
LOTS OF PRETTY FLOWERS...
AND APPLE PIES.
A STAR FOR YOU TO WISH ON...
A RAINBOW FOR YOUR SKY...
A LITTLE BIT OF FANTASY...
AN ANGEL BY YOUR SIDE.
HERE'S A CAKE AND CANDLES...
AND A GIFT ALL WRAPPED UP, TOO...
HOW ABOUT SOME PARTY FAVORS...
AND A BOUQUET OF BALLOONS FOR YOU?
ALL THESE THINGS WE WISH FOR YOU
BUT MORE THAN ALL THE REST,
WE WISH YOU GOD'S GOOD BLESSINGS
OF PEACE, LOVE AND HAPPINESS.
HAVE THE HAPPIEST BIRTHDAY EVER. WE LOVE YOU VERY MUCH. BOBBY, BEV AND, OF COURSE,
SHADOW.