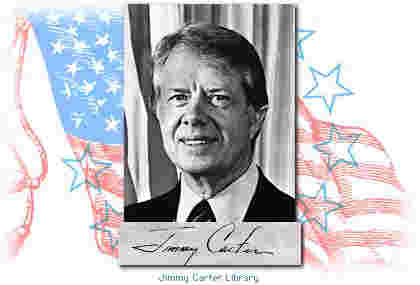 THIS IS JIMMY CARTER'S FAMILY
Parents:
Father: James Earl Carter, born 1894, Arlington, Georgia; died 1953.
Mother: Lillian Gordy Carter, born 1898, Richland, Georgia; died 1983.
Married: September 26, 1923
Brother and Sisters:
Gloria Carter Spann (Mrs. Walter G.), born October 22, 1926; died March 5, 1990.
Ruth Carter Stapleton (Mrs. Robert T.), born August 7, 1929; died September 26, 1983.
William Alton (Billy) Carter; born March 29, 1937; died September 26, 1988.
Wife:
Eleanor Rosalynn Smith Carter,
born August 18, 1927, Plains, Georgia.
Children and Grandchildren:
John William (Jack) Carter, born July 3, 1947, Portsmouth, VA.
His son, Jason James Carter, was born August 7, 1975, and daughter, Sarah Rosemary Carter, was born December 19, 1978.
Jack is married to Elizabeth Brasfield of Chagrin Falls, Ohio. Her children are John and Sarah Chuldenko.
James Earl (Chip) Carter III, born April 12, 1950, Honolulu, HI.
His son, James Earl Carter IV, was born February 25, 1977.
Chip is married to Ginger Hodges of Americus, GA.
Their daughter, Margaret Alicia Carter, was born September 23, 1987.
Donnel Jeffrey (Jeff) Carter, born August 18, 1952, New London, Connecticut.
Married Annette Jene Davis of Arlington, GA.
Children: Joshua Jeffrey Carter, born June 25, 1987,
Jeremy Davis Carter, born June 25, 1987,
and James Carlton Carter, born April 24, 1991.
Amy Lynn Carter, born October 19, 1967, Plains Georgia.
Married James Gregory Wentzel of Herndon, VA.
Their son, Hugo James Wentzel, was born July 29, 1999.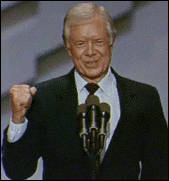 Let's take a quick look at some of Jimmy Carter's accomplishments while in office. Then we'll go into more detail.
James Earl (Jimmy) Carter served as president of the United States from 1977 to 1981.

His domestic strategies were hampered by runaway inflation and an uncooperative Congress that couldn't come to agreement with him on energy conservation and alternate energy research policies.

In foreign affairs, however, Carter is credited with helping to bring about peace between Egypt and Israel.

Making a treaty to give Panama control of the Panama Canal,

Reaching an arms control agreement with the Soviets (SALT II, which was never ratified),

And securing the release of the U.S. hostages from the embassy in Teheran, Iran. (Though some conspiracy theorists claim George Bush tampered with this action.)

Carter also attempted an overhaul of the tax system, but Congress rejected the idea in favor of tax cuts.

Carter's popularity was hampered throughout 1980 because of the difficulty in ending the hostage crisis in Iran. It was also hampered because the Soviet invasion of Afghanistan led him to reinstate draft registration, boycott the summer Olympics in Moscow, and cut domestic spending in favor of military spending.

In the November 4, 1980 election, Carter was defeated by Ronald Reagan. On January 20, 1981, just minutes after Carter left office, Iran released the hostages.
Since leaving the presidency, Carter has continued the work that stood out during his presidency, acting as a mediator to help bring about peaceful settlements to disputes throughout the world.

Click on the Presidential Seal and we'll learn a bit more about Mr. Carter.